>,



A Warm Welcome To The 'Balance in Life' Electronic Newsletter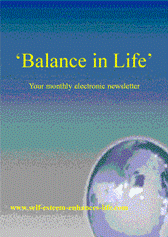 Hi, I'm Martin, and I'm very happy to be sharing a little more about life in this free monthly newsletter.
2012, as all years do, has been left behind. We may look back and see what we have achieved and look forward to starting afresh in 2013.
A couple of months have just vanished behind us. And changes are afoot . . .
Changes in your life and changes in mine. And the same with www.self-esteem-enhances-life.com and BalanceInLife ezine.
A new shorter look this month. And there will be further changes to website and ezine in the coming months. I'll admit to taking the foot off the gas in recent times, but now, with renewed energy and direction, enhancements, amendments, changes, improvements - they are all in the pipeline.
So please keep in touch and take advantage of these changes as the months of 2013 go by.
And in your own life - know that life is really in YOUR hands.
Look at things in your own life and see what needs to change. What new things are required and what of the old needs to be (at least temporarily) left behind.
Be a part of this exciting adventure - here and now! Start today and do not stop!
---
What do you think? How can your ezine be improved? Which articles would you like to see?
Let me know by sending me your feedback using this link.
---
Each month there will be an article, with fresh content, that goes into a subject in a little more detail. Perhaps give a different stance. Perhaps provide food for thought. Perhaps . . .

This month a different theme.

Your choices make a difference


If you cannot work with love but only with distaste, it is better that you should leave your work. Kahlil Gibran


Your choices make a difference . . .

What you do is your choice.

You can look to others but the final decision is yours. And yours alone.

Scary, eh?

If you don't like what you are doing then you should seek ways of changing and moving on.

It may not always be easy, and often seldom is.

For what do we learn when things are easy and smooth?

When things go easily along we can easily drift along with them.

But that is rarely life's way.

Challenges, obstacles, hurdles appear. As if from nothing.

When challenges appear meet them. When obstacles appear surmount them.

When hurdles appear find a way to jump over them. Or at least go round them, remembering that they lay behind you - at least for a while, until you turn the next corner of life.

Rise above things. See the bigger picture. See the greater good.

You should find peace, contentment in what you do. You should also find challenge, appreciation and satisfaction, too.

But if all you find is distaste, dissatisfaction, discontent - then you know something is wrong.

These are firm indicators that all is not well. And that something maybe needs to change.

It may be your attitude and your effort and your viewpoint. Give these thought and consideration. Ask yourself, what in my life could I change and what affect would this have - on me, my surroundings and on what I do?

Or you may be trying to fit a square peg in a round hole. Not working to your strengths. Not practising what you preach.

Not following your life principles or guidelines. Not living in sync with your values and beliefs. Not doing something that you enjoy.

But it need not be this way.

But you need to make that choice. And the first choice is to see that something needs to change. And if that seems too strong, that something needs to be amended.

Start there - and on starting you will often be surprised that life opens up in new, fresh and exciting ways for you.

Take that first step - TODAY!



Hope you enjoyed it and found it beneficial. Be inspired to become more in 2012. Make the most of every moment you have. Martin

What do you think? Let me know by sending me your feedback using this link. February 2013 Contents
Again it has been a real pleasure spending time with you. I look forward to meeting up with you next month - April 2013.
Many thanks to all of you who have been reading these ezines over the months. And for your good wishes, comments and suggestions.
In the meantime make the most of your life. Enjoy your days. And if you want to contact me about anything pertaining to self esteem and life then you know where to do so.
May I just wish you all every success and hope that you find enjoyment, satisfaction and fulfillment in your life in the coming days and years.