A Warm Welcome To The 'Balance in Life' Electronic Newsletter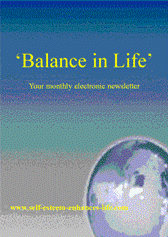 Hi, I'm Martin, and I'm very happy to be sharing a little more about life in this free monthly newsletter.
As we are already through the first half of 2012! Which plans remain as just hopes, and which ones are you really going to go for, put in the effort and take them off your drawing board?
It is not too late to start - why not look to do something today! Do that thing you have been putting off - do it right now! Make the rest of 2012 what you really want it to be. Know that you can do it. You can do anything you put your mind too . . .
Know that life is really in YOUR hands.
Want to reach your potential - start right now - follow your own dream by finding out more here - click on the image - you have nothing too lose and so much to gain (A SBI! website - now just $29.99 a month).

---
So what do we have in store this month in this edition of 'Balance in Life'?

So let us get started on this months edition . . .
---
Following on from the Lighter Note page on the website I thought I would provide just a few more quotes here each month.
Another chance to smile, to ponder, to think, to appreciate, to . . .
It's a strange world of language in which skating on thin ice can get you into hot water. Franklin P. Jones
There never was a good war or a bad peace. Benjamin Franklin
You can no more win a war than you can win an earthquake. Jeannette Rankin
Science is simply common sense at best. Thomas Huxley
I saw the angel in the marble and carved until I set him free. Michaelangelo
Every time I go to a movie, it's magic, no matter what the movie's about. Steven Spielberg
Pure mathematics is, in its way, the poetry of logical ideas. Albert Einstein
Poetry is nearer to truth than history. Plato
The tongue is but three inches long yet it can kill a man six feet high. Japanese proverb
Theory helps us bear our ignorance of facts. George Santayana
Let each man exercise the art he knows. Aristophanes
Politicians are the same the world over. They promise to build a bridge even where there is no river. Nikita Krushchev
---
---
Each month I will look through my notebooks and find a little bit of prose 'n poetry. Often written in a few minutes, so please don't expect Wordsworth, but hopefully these entries will provide a little interlude in your day. A chance to think and ponder, to daydream or to visualize, to perhaps see things in a different light.
Please see what you think and let me know if it is useful or not - highlights some valuable points but in a lighter vein . . .
Happy reading.
---
We can just talk
sit around, do not away from me walk
all this back and forth makes me feel dizzy
I like plain and simple, leave out the glitzy

---
You want to be first
but do you really have the thirst
to go where others have tred and explored
to find yourself, all those wonders, wisdom yet to be discovered

---
We cannot today have it cancelled
lack of interest, motivation, just be determined
to see the essentials of life this day through
do you really know who really is who?

---
How do you rate
what is your true state
afraid of your fate
be on time and never be late

be patient
life won't let you wait
today can really be that date
when you move on and embrace your true fate

---
Life has a princely sum
need not be boring or humdrum
there is so much excitement to be had
it is your right, need not be just a fad
just be up front and willingly beat your own drum

---
---
You may have noticed some red links on some of the web pages. Clicking through these links will offer you opportunities to have a say (AND a page on the website). These subjects will be expanding in the coming months.
This is your chance to have a real say and contribute your thoughts, your feelings for the benefit of all visitors. Get your thinking caps on and help another visitor along the way.
The following gives the first of the 'red links' I have created for you. Enjoy playing YOUR part in assisting others in this way
YOUR favorite self development book
Feel free to offer your own thoughts and ideas - please just keep them focused on the subject of the page (there will be several more on different areas of topical interest in due course). Or see what others have shared and add comments to their input.
I will keep you up to date with this exciting initiative as the months go by.
Have your say and your presence on the Internet - YOUR very own web page. This is your chance.
Don't be shy - we have been together some time now. Let me know what you would like to see on my websites and in this ezine. Contact me now.
---
Sister websites
I will continue to add focused content and expand the www.self-esteem-enhances-life.com website but I will also be building my other websites, too.
My second website is www.successful-decision-making.com This is all about making decisions and to help you in making the right decisions for you.
Find out how to make that important decision. Why not have a look now! All best, Martin
---
My third website is www.guide-to-managing-change.com which helps us all to handle change better and looks at the consequences of change and the challenges involved.
Tune in to understand change better. All best, Martin
---
My fourth website is www.everyday-wisdom-revealed.com which provides a resource looking at wisdom, insights, everyday knowledge - much of which we already know - which may have passed under our radar. Pop along for a read!
The idea of the site is to have little snippets, an insight a page, easy to read, thought provoking but topical - something for everybody.
Sign up for this NEW free ezine by following this linkEveryday Wisdom Free Newsletter - sign up here - and get the next free ezine delivered to your email Inbox.
---
My aim with these three four websites is provide a one-stop information and inspiration center to help support and assist us all through life. And help us all get the most out of our lives.
Be a part of this exciting adventure - here and now! Start today and do not stop!
---
What do you think? Let me know by sending me your feedback using this link.
---
Recent developments on www.self-esteem-enhances-life.com
If you look on the SiteMap page you will see everything you can look at.
My next pages will be providing further content on different topics for the website.
If you'd like to provide any feedback or comments please use my Contact Me page.
RSS feed
To get the latest website developments to your screen please subscribe to my RSS feed. You can either paste this address into your RSS reader
https://www.self-esteem-enhances-life.com/Self-Esteem.xml
OR
on my Home Page please click on the RSS button, top left of the page, and follow the instructions.
---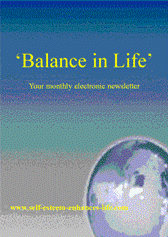 As you know this is free to your email box at the beginning of each month. If this is not your own copy then please follow this link to sign up for your very own copy
---
Each month there will be an article, with fresh content, that goes into a subject in a little more detail. Perhaps give a different stance. Perhaps provide food for thought. Perhaps . . .

This month a different theme.

Have a sense of proportion


Have a sense of proportion. Make that a good sense of proportion.

Know what is important in your life.

Know what your priorities are.

Know where to put your energies.

Know your own capabilities.

Find a balance in the life you have - or change things until you do.

Realize that there is more to life than getting up and going to work or looking after the house and family, important as they are.

Look at your life and reflect on what you are doing.

Examine things - are they really what you want and are they productive or satisfying?

Assess and evaluate - try to get the measure of what you are doing in life.

Are you spending too much time and effort in one particular area? Did you realize that and are you happy with that?

Is there a harmony in what you do or are some things pulling one way and other things another?

Is there any 'you time'? Time and space for you?

If you want to change something have you made an agreement with yourself

what you want to change or stop
how much effort you are willing to expend
which direction you would rather be going in
when you want all this to occur
can you see the benefits of this move?
so that you do not blindly go in and change (or try to change) something and end up in a worse or less liked situation.

You may want to put your foot in the water to 'test the temperature'. Try something out before you go for it.

Is what you are doing one of your priorities or just small fry in the grand order of things? And something to do rather than tackle the really important issues you need to deal with?

Find out what is important to you. Ring fence those if you wish.

There is only so much time in each day so use your time and efforts wisely.

Every now and again reflect on progress.

is it quick enough
are you happy where you are going
are you being productive
what obstacles do you meet
and
how much do you like the life you have
how much do you like the way you are handling life
how much do you accept yourself
how much do you respect yourself
do you have confidence in your abilities?

But do not beat yourself up. Things take time and some things are beyond your control anyway.

Be proportionate and give of your best and be happy with what you do.

and do not be bogged down by trivia . . .

What you are and what you stand for and become are very important elements of your life. Move forward with confidence.



Hope you enjoyed it and found it beneficial. Be inspired to become more in 2012. Make the most of every moment you have. Martin


What do you think? Let me know by sending me your feedback using this link. May 2012 Contents
---
Have you ever wanted your own business? But no previous experience . . . Have you every wanted your own website? But no previous experience . . .
And you thought you could NOT afford it - but now you can! At only $29.99 a month you can do it.

Look at your own life and what you can do - and your website is in their somewhere - just waiting to get out.
Give YOURSELF this chance today!
If you have the desire, the will to do your own thing then help is at hand.
Think you can, you can.
Think I don't know - then you could . . .
Find out about how YOU could do this for yourself with Site Build It!.
Or, to find out how I learned about this and started putting it into practice
Yes, you can do this.
You can build your own website.
You can realize your own dreams.
You can fulfill your dreams.
Any questions about SBI!?
---
If you'd like to contact me please use the following link: Contact Me page
---
A lifelong ambition has been realized! I am now an author and I would love to share my works with you.
And here they are - the ebooks for you to enjoy! Just click on the images to get more information . . .

Fitting Life's Pieces Together eBooks - Volumes 1, 2 and 3

Inspirational and motivational quotes and verses to assist you in meeting life's challenges, adapting to and embracing change, making better decisions, raising self esteem and understanding yourself and life better.

Please click on the ebook images to find out more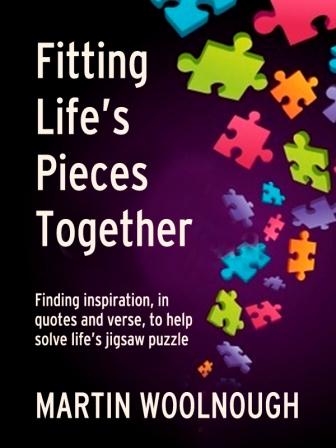 In the US use:
Feel free to view this ebook on Amazon right now!

In the UK use:
Feel free to view this ebook on Amazon right now!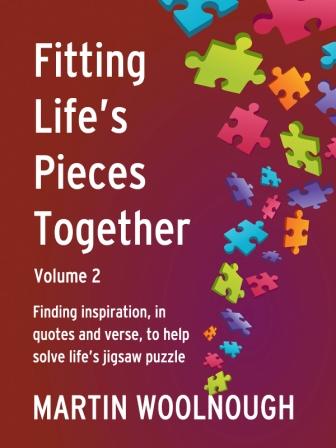 In the US use:
Feel free to view this ebook on Amazon right now!

In the UK use:
Feel free to view this ebook on Amazon right now!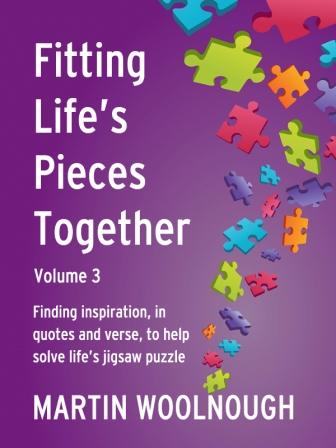 In the US use:
Feel free to view this ebook on Amazon right now!

In the UK use:
Feel free to view this ebook on Amazon right now!



Celebrating The Inner You eBooks - Volumes 1, 2 and 3

Find inspirational and motivational quotes and verses to assist you to celebrate the gift of life. Discover timeless wisdom and thought provoking contents that will challenge you to get more out of life. Understand yourself and life better.

Each ebook is about viewing life as a gift and time as being precious ...

Please click on the ebook images to find out more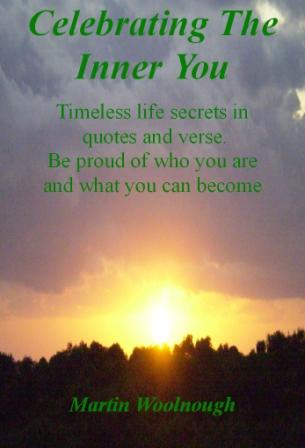 In the US use:
Feel free to view this ebook on Amazon right now!

In the UK use:
Feel free to view this ebook on Amazon right now!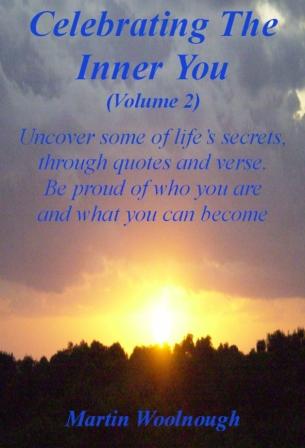 In the US use:
Feel free to view this ebook on Amazon right now!

In the UK use:
Feel free to view this ebook on Amazon right now!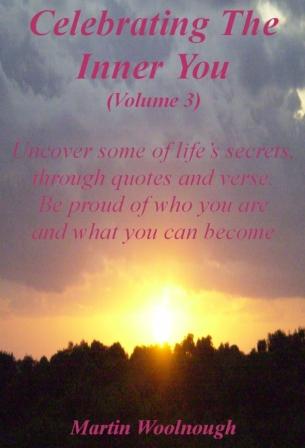 In the US use:
Feel free to view this ebook on Amazon right now!

In the UK use:
Feel free to view this ebook on Amazon right now!




My Amazon author page is:

My Author Page URL is live on Amazon.com. Please feel free to visit my Amazon author page there by using this link.

Please realize you do not need a Kindle reader to be able to access and read Kindle ebooks, they can be read on Mac, PC, iPhone and iPod touch, iPad and Android.
Learn more here!
Please let me know what you think ...
Your life might never be the same again!
---
---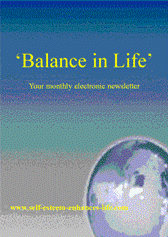 So, that is all for this month - doesn't time fly! Another year is racing away with us.

Again it has been a real pleasure spending time with you. I look forward to meeting up with you next month - June 2012.

The summer months revitalize us. We see new ways and chances to start afresh. Clean the slate. Get down to all those important things that you may have been putting off - and we tend to do that from time to time, don't we?

Why not start right now!

Many thanks to all of you who have been reading these ezines over the months. And for your good wishes, comments and suggestions.

In the meantime make the most of your life. Enjoy your days. And if you want to contact me about anything pertaining to self esteem and life then you know where to do so.

May I just wish you all every success and hope that you find enjoyment, satisfaction and fulfillment in your life in the coming days and years.

All best from England, Martin






Copyright© 2008-2012. Self-Esteem-Enhances-Life.com. All Rights Reserved.

---