Fitting Lifes Pieces Together - An Ebook To Help You Get More Out Of Life
Martin Woolnough's ebook store
Welcome to the electronic book store page for Fitting Lifes Pieces Together on www.self-esteem-enhances-life.com!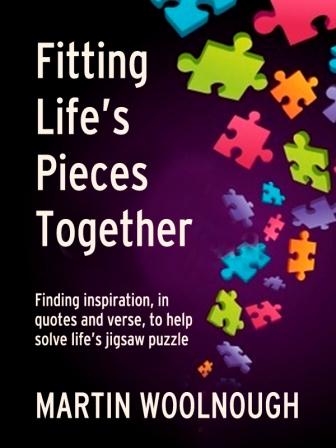 In the US use:Feel free to view this ebook on Amazon right now!
In the UK use:Feel free to view this ebook on Amazon right now!
Taken from the Fitting Lifes Pieces Together book description

Inspirational and motivational quotes and verses to assist you in meeting life's challenges, adapting to and embracing change, making better decisions, raising self esteem and understanding yourself and life better.
Fitting Lifes Pieces Together is about seeing how the different elements of the jigsaw puzzle that we call life can be brought together. We all want to enjoy life and find satisfaction and contentment in our days and the things that we decide to do. We have untold wisdom, knowledge and experience, we just need to let this come out . . .
Two extra extracts
When you view the Fitting Lifes Pieces Together ebook on Amazon you will be able to 'click to look inside' and get a small flavor of what the book is about. But here are two further extracts for you.
Part 2: Making the right decisions

Remember that very little is needed to make a happy life.

Marcus Aurelius


****************************


There is no sin except stupidity.

Oscar Wilde
Attachments
We may find that attachments rarely serve any real purpose
Into my thoughts, plans and actions they seem to trespass
They stick to us like glue and at times seem to take over
Becoming most annoying impediments and giving us a hangover

For at times that seems to be in the way
we connect to things for what they convey
to us in moments of excitement, energy and hurray
but oft times their welcome they seem to outstay

Some take advantage of our affection
some seek of us out and leech out our devotion
others of us seem to become an extension
while yet others take over, becoming a real fixation

From which we need to ourselves to detach
from our sight we need them to rapidly dispatch
because for us they may have been a mismatch
we want to feel free, and everything in life us to really match
There is no more miserable human being than one inwhom nothing is habitual but indecision.
William James
In the US use:Feel free to view this ebook on Amazon right now!

In the UK use:Feel free to view this ebook on Amazon right now!
My Amazon author page
My Author Page URL is live on Amazon.com. My Author Page can now be found at: so please feel free to visit my Amazon author page there
Please realize you do not need a Kindle reader, you can read Kindle ebooks on Windows PC, Mac, iPhone, iPad and Android.
Learn more here!
---