Hello <>,



A Warm Welcome To The 'Balance in Life' Electronic Newsletter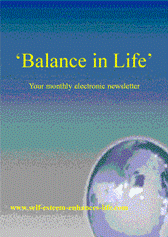 Hi, I'm Martin, and I'm very happy to be sharing a little more about life in this free monthly newsletter.
As we are already through the first half of 2012! Which plans remain as just hopes, and which ones are you really going to go for, put in the effort and take them off your drawing board?
It is not too late to start - why not look to do something today! Do that thing you have been putting off - do it right now! Make the rest of 2012 what you really want it to be. Know that you can do it. You can do anything you put your mind too . . .
Know that life is really in YOUR hands.
Want to reach your potential - start right now - follow your own dream by finding out more here - click on the image - you have nothing too lose and so much to gain (A SBI! website - now just $29.99 a month).

---
So what do we have in store this month in this edition of 'Balance in Life'?

So let us get started on this months edition . . .
---
Following on from the Lighter Note page on the website I thought I would provide just a few more quotes here each month.
Another chance to smile, to ponder, to think, to appreciate, to . . .
If you would understand anything, observe its beginning and its development. Aristotle
Failure is simply the opportunity to begin again, this time more intelligently. Henry Ford
The day, water, sun, moon, night - I do not have to purchase these things with money. Plautus
The only good is knowledge, and the only evil is ignorance. Socrates
The most successful businessman is the man who holds onto the old just as long as it is good and grabs the new just as soon as it is better. Lee Iacocca
Only your real friends will tell you when you face is dirty. Sicilian proverb
He who is cruel to animals becomes hard also in his dealings with men. We can judge the heart of a man by his treatment of animals. Immanuel Kant
Computers are useless. They can only give you answers. Pablo Picasso
Obstacles are those frightful things you see when you take your eyes off your goal. Henry Ford
In nature there are neither rewards nor punishments. There are consequences. Robert G. Ingersoll
Trust yourself. You know more than you think you do. Benjamin Spock
Why does a woman work ten years to change a man's habits and then complain that he's not the man she married? Barbra Streisand
To be conscious that you are ignorant is a great step to knowledge. Benjamin Disraeli
---
---
Each month I will look through my notebooks and find a little bit of prose 'n poetry. Often written in a few minutes, so please don't expect Wordsworth, but hopefully these entries will provide a little interlude in your day. A chance to think and ponder, to daydream or to visualize, to perhaps see things in a different light.
Please see what you think and let me know if it is useful or not - highlights some valuable points but in a lighter vein . . .
Happy reading.
---
We wait for this
We wait for that
We'd like to refuse
We are too proud so we don't
We think we know what we like
Anything unpleasant can take a hike
It's important to know your own mind
Keep on going we find
Is advice that is very sound

---
We like to think
We know what to do
We don't like to sink
Yes, float above it all your whole life through
Is your color red, yellow or is it pink
Keep your head up, the sky is really blue

---
Keep on going, it makes such sense
One step at a time
Remove all doubts
Act now, it is time to jump off that fence

---
Does life not have an open door
Do we always know what is in store
Or does life deal us a surprise
To help keep us on our toes
Best to be in life's rich flow
As we seek out life's wondrous prize

---
In life there is some danger
To adversity we are no real stranger
We have to take the rough with the smooth
you can avoid most of that which you loath
Venture forth with joy, happiness and no space for anger

---
---
You may have noticed some red links on some of the web pages. Clicking through these links will offer you opportunities to have a say (AND a page on the website). These subjects will be expanding in the coming months.
This is your chance to have a real say and contribute your thoughts, your feelings for the benefit of all visitors. Get your thinking caps on and help another visitor along the way.
The following gives the first of the 'red links' I have created for you. Enjoy playing YOUR part in assisting others in this way
YOUR favorite self development book
Feel free to offer your own thoughts and ideas - please just keep them focused on the subject of the page (there will be several more on different areas of topical interest in due course). Or see what others have shared and add comments to their input.
I will keep you up to date with this exciting initiative as the months go by.
Have your say and your presence on the Internet - YOUR very own web page. This is your chance.
Don't be shy - we have been together some time now. Let me know what you would like to see on my websites and in this ezine. Contact me now.
---
Sister websites
I will continue to add focused content and expand the www.self-esteem-enhances-life.com website but I will also be building my other websites, too.
My second website is www.successful-decision-making.com This is all about making decisions and to help you in making the right decisions for you.
Find out how to make that important decision. Why not have a look now! All best, Martin
---
My third website is www.guide-to-managing-change.com which helps us all to handle change better and looks at the consequences of change and the challenges involved.
Tune in to understand change better. All best, Martin
---
My fourth website is www.everyday-wisdom-revealed.com which provides a resource looking at wisdom, insights, everyday knowledge - much of which we already know - which may have passed under our radar. Pop along for a read!
The idea of the site is to have little snippets, an insight a page, easy to read, thought provoking but topical - something for everybody.
Sign up for this NEW free ezine by following this linkEveryday Wisdom Free Newsletter - sign up here - and get the next free ezine delivered to your email Inbox.
---
My aim with these three four websites is provide a one-stop information and inspiration center to help support and assist us all through life. And help us all get the most out of our lives.
Be a part of this exciting adventure - here and now! Start today and do not stop!
---
What do you think? Let me know by sending me your feedback using this link.
---
Recent developments on www.self-esteem-enhances-life.com
If you look on the SiteMap page you will see everything you can look at.
My next pages will be providing further content on different topics for the website.
If you'd like to provide any feedback or comments please use my Contact Me page.
RSS feed
To get the latest website developments to your screen please subscribe to my RSS feed. You can either paste this address into your RSS reader
https://www.self-esteem-enhances-life.com/Self-Esteem.xml
OR
on my Home Page please click on the RSS button, top left of the page, and follow the instructions.
---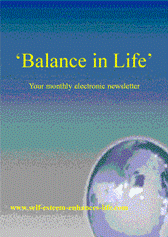 As you know this is free to your email box at the beginning of each month. If this is not your own copy then please follow this link to sign up for your very own copy
---
Each month there will be an article, with fresh content, that goes into a subject in a little more detail. Perhaps give a different stance. Perhaps provide food for thought. Perhaps . . .

This month a different theme.

Let go more in your life


Encourage yourself to let go more in your life.

You cannot hang onto everything.

The chances are that you have far too many attachments - all grabbing at you. Wanting your time and effort. Wanting a piece of you.

Do you have any free time for you - if not then something has to give, and do not let it be you (and your experience of this life).

Do you try to burn the candle at both ends - or do you have the right balance between work, rest and play?

Do you try to do it all? Do you try to do everything yourself - when you have other people around you who can help you and support your efforts and help with your life?

Do you always say yes, and cannot say no? So that you end up doing far more than you should, and trying to please other people too much?

Do you only see the work and not the benefits of what you do? Do you need to raise your eyes and experience and appreciate the view and not just buckle down and only see the effort?

Do you let things take over and not give you any breathing space? So you end each day tired out and feeling the pressure and stress of what you go through?

If you feel or experience any of the above you need to let go more.

You need to be able to smell the roses and not always be going at 100 miles per hour.

You need to step back and take stock and rearrange your life - if need be.

You need some relaxation time and some time for you.

Learn to let go more and just enjoy.

Do not always feel that things are down to you - and you alone.

Understand that there is more to life than making money or increasing your fame quotient.

Appreciate that life is a journey and you do not have to do it all in one day, or one year.

Try to avoid doing things out of obligation. Do things because they are important, they will make a difference and you are happy to support them.

Try to ration what you do - at least until you have the right balance in your life - so that you do not feel overburdened or over used.

And do not forget yourself. This is not all about what you do, but you also. Who and what you are and what you stand for.

Let go of unnecessary thoughts. Remove the negative from your life.

Start (continue) to see the positive in things and the good in things.

See that not all things need an end product, a bottom line as such. Do things because they need to be done and will help and assist other people, not just because you want to get on in life yourself.

Looking out for others will only help you look out for yourself. These things have to start at home to have any real meaning.

So start looking out for number one today - in a good and wholesome way - and then you will be able to make that contribution you have always wanted to.

And you will be the person others want to befriend and be around. (Who says you cannot help yourself by helping and looking out for others!)




Hope you enjoyed it and found it beneficial. Be inspired to become more in 2012. Make the most of every moment you have. Martin

What do you think? Let me know by sending me your feedback using this link. July 2012 Contents
---
Have you ever wanted your own business? But no previous experience . . . Have you every wanted your own website? But no previous experience . . .
And you thought you could NOT afford it - but now you can! At only $29.99 a month you can do it.

Look at your own life and what you can do - and your website is in their somewhere - just waiting to get out.
Give YOURSELF this chance today!
If you have the desire, the will to do your own thing then help is at hand.
Think you can, you can.
Think I don't know - then you could . . .
Find out about how YOU could do this for yourself with Site Build It!.
Or, to find out how I learned about this and started putting it into practice
Yes, you can do this.
You can build your own website.
You can realize your own dreams.
You can fulfill your dreams.
Any questions about SBI!?
---
If you'd like to contact me please use the following link: Contact Me page
---
A lifelong ambition has been realized! I am now an author and I would love to share my works with you.
And here they are - the ebooks for you to enjoy! Just click on the images to get more information . . .

Fitting Life's Pieces Together eBooks - Volumes 1, 2 and 3

Inspirational and motivational quotes and verses to assist you in meeting life's challenges, adapting to and embracing change, making better decisions, raising self esteem and understanding yourself and life better.

Please click on the ebook images to find out more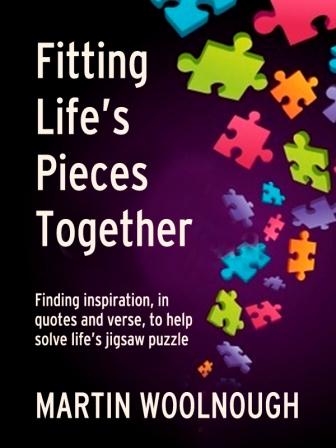 In the US use:
Feel free to view this ebook on Amazon right now!

In the UK use:
Feel free to view this ebook on Amazon right now!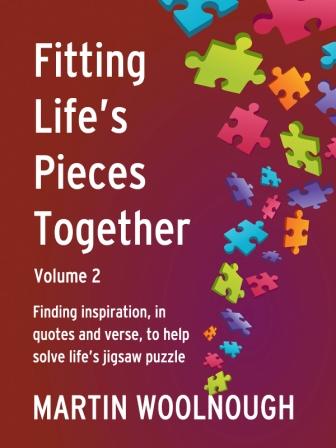 In the US use:
Feel free to view this ebook on Amazon right now!

In the UK use:
Feel free to view this ebook on Amazon right now!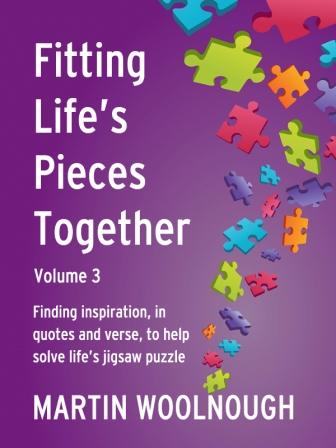 In the US use:
Feel free to view this ebook on Amazon right now!

In the UK use:
Feel free to view this ebook on Amazon right now!



Celebrating The Inner You eBooks - Volumes 1, 2 and 3

Find inspirational and motivational quotes and verses to assist you to celebrate the gift of life. Discover timeless wisdom and thought provoking contents that will challenge you to get more out of life. Understand yourself and life better.

Each ebook is about viewing life as a gift and time as being precious ...

Please click on the ebook images to find out more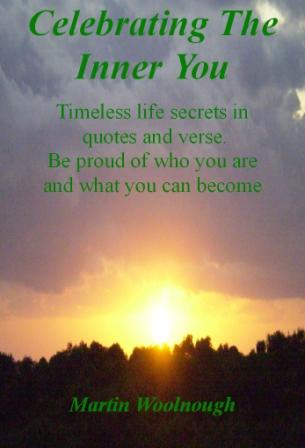 In the US use:
Feel free to view this ebook on Amazon right now!

In the UK use:
Feel free to view this ebook on Amazon right now!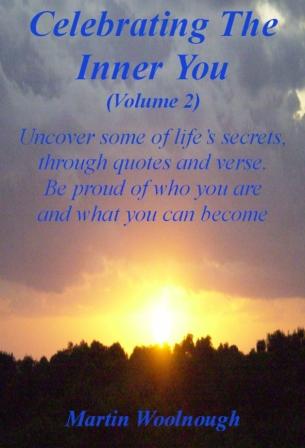 In the US use:
Feel free to view this ebook on Amazon right now!

In the UK use:
Feel free to view this ebook on Amazon right now!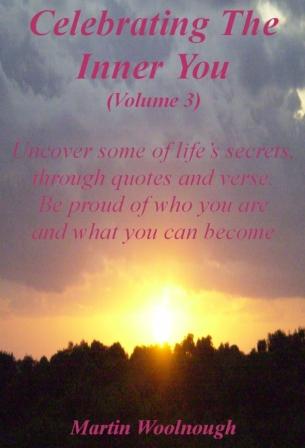 In the US use:
Feel free to view this ebook on Amazon right now!

In the UK use:
Feel free to view this ebook on Amazon right now!




My Amazon author page is:

My Author Page URL is live on Amazon.com. Please feel free to visit my Amazon author page there by using this link.

Please realize you do not need a Kindle reader to be able to access and read Kindle ebooks, they can be read on Mac, PC, iPhone and iPod touch, iPad and Android.
Learn more here!
Please let me know what you think ...
Your life might never be the same again!
---
---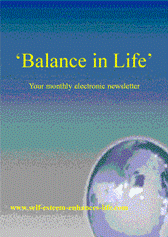 So, that is all for this month - doesn't time fly! Another year is racing away with us.

Again it has been a real pleasure spending time with you. I look forward to meeting up with you next month - July 2012.

The summer months revitalize us. We see new ways and chances to start afresh. Clean the slate. Get down to all those important things that you may have been putting off - and we tend to do that from time to time, don't we?

Why not start right now!

Many thanks to all of you who have been reading these ezines over the months. And for your good wishes, comments and suggestions.

In the meantime make the most of your life. Enjoy your days. And if you want to contact me about anything pertaining to self esteem and life then you know where to do so.

May I just wish you all every success and hope that you find enjoyment, satisfaction and fulfillment in your life in the coming days and years.

All best from England, Martin






Copyright© 2008-2012. Self-Esteem-Enhances-Life.com. All Rights Reserved.

---