Hello <>,



A Warm Welcome To The 'Balance in Life' Electronic Newsletter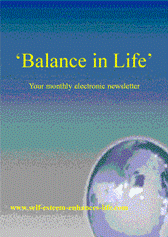 Hi, I'm Martin, and I'm very happy to be sharing a little more about life in this free monthly newsletter.
We are leaving the summer behind as 2012 is accelerating away with us! There is still time to put into action those things you were thinking about earlier in the year. Of those, which plans remain as just hopes, and which ones are you really going to go for, put in the effort and take them off your drawing board?
It is not too late to start - why not look to do something today! Do that thing you have been putting off - do it right now! Make the rest of 2012 what you really want it to be. Know that you can do it. You can do anything you put your mind too . . .
Know that life is really in YOUR hands.
Want to reach your potential - start right now - follow your own dream by finding out more here - click on the image - you have nothing too lose and so much to gain (A SBI! website - now just $29.99 a month).

---
So what do we have in store this month in this edition of 'Balance in Life'?

So let us get started on this months edition . . .
---
Following on from the Lighter Note page on the website I thought I would provide just a few more quotes here each month.
Another chance to smile, to ponder, to think, to appreciate, to . . .
Why does a woman work ten years to change a man's habits and then complain that he's not the man she married? Barbra Streisand
To be conscious that you are ignorant is a great step to knowledge. Benjamin Disraeli
If GM had kept up with technology like the computer industry has, we would be driving $25 cars that got 1000mpg. Bill Gates
The bird a nest, the spider a web, man friendship. William Blake
The love of liberty is the love of others; the love of power is the love of ourselves. William Hazlitt
A man's errors are his portals of discovery. James Joyce
It is in our lives and not our words that our religion must be read. Thomas Jefferson
The best way to destroy an enemy is to make him a friend. Abraham Lincoln
Knowing others is wisdom; knowing yourself is Enlightenment. Lao Tzu
I've made an odd discovery. Every time I talk to a savant I feel quite sure that happiness is no longer a possibility. Yet when I talk with my gardener, I'm convinced of the opposite. Bertrand Russell
Those who cannot learn from history are doomed to repeat it. George Sanyayana
God never made his work for man to mend. John Dryden
Friendship is the only cement that will ever hold the world together. Woodrow Wilson
---
---
Each month I will look through my notebooks and find a little bit of prose 'n poetry. Often written in a few minutes, so please don't expect Wordsworth, but hopefully these entries will provide a little interlude in your day. A chance to think and ponder, to daydream or to visualize, to perhaps see things in a different light.
Please see what you think and let me know if it is useful or not - highlights some valuable points but in a lighter vein . . .
Happy reading.
---
We like to think
We know what to do
We don't like to sink
Yes, float above all your whole life through
Is your color red, yellow or is it pink
Keep your head up the sky is really blue

---
I need to believe in myself
It's surely good for my health
Let my life run good and true
And I'll help life do the same for you

---
You should attempt to get the best from your life
Life knows that you are most adept
Be positive, deal with troubles and strife
Be open, and don't question everything and suspect
That life is not really on your side
Believe in yourself, there is no real reason from life to hide

---
Is this the right road
Where will it take us
Find the source of life's energy, that is life's real food
Explore, savor, and understand more to find success
Do what is natural but just make certain that's for the common good

---
What more is there to say
what more can we really do today
to keep life on its own good track
don't get het up, give life a bit of slack

---
---
You may have noticed some red links on some of the web pages. Clicking through these links will offer you opportunities to have a say (AND a page on the website). These subjects will be expanding in the coming months.
This is your chance to have a real say and contribute your thoughts, your feelings for the benefit of all visitors. Get your thinking caps on and help another visitor along the way.
The following gives the first of the 'red links' I have created for you. Enjoy playing YOUR part in assisting others in this way
YOUR favorite self development book
Feel free to offer your own thoughts and ideas - please just keep them focused on the subject of the page (there will be several more on different areas of topical interest in due course). Or see what others have shared and add comments to their input.
I will keep you up to date with this exciting initiative as the months go by.
Have your say and your presence on the Internet - YOUR very own web page. This is your chance.
Don't be shy - we have been together some time now. Let me know what you would like to see on my websites and in this ezine. Contact me now.
---
Sister websites
I will continue to add focused content and expand the www.self-esteem-enhances-life.com website but I will also be building my other websites, too.
My second website is www.successful-decision-making.com This is all about making decisions and to help you in making the right decisions for you.
Find out how to make that important decision. Why not have a look now! All best, Martin
---
My third website is www.guide-to-managing-change.com which helps us all to handle change better and looks at the consequences of change and the challenges involved.
Tune in to understand change better. All best, Martin
---
My fourth website is www.everyday-wisdom-revealed.com which provides a resource looking at wisdom, insights, everyday knowledge - much of which we already know - which may have passed under our radar. Pop along for a read!
The idea of the site is to have little snippets, an insight a page, easy to read, thought provoking but topical - something for everybody.
Sign up for this NEW free ezine by following this linkEveryday Wisdom Free Newsletter - sign up here - and get the next free ezine delivered to your email Inbox.
---
My aim with these three four websites is provide a one-stop information and inspiration center to help support and assist us all through life. And help us all get the most out of our lives.
Be a part of this exciting adventure - here and now! Start today and do not stop!
---
What do you think? Let me know by sending me your feedback using this link.
---
Recent developments on www.self-esteem-enhances-life.com
If you look on the SiteMap page you will see everything you can look at.
My next pages will be providing further content on different topics for the website.
If you'd like to provide any feedback or comments please use my Contact Me page.
RSS feed
To get the latest website developments to your screen please subscribe to my RSS feed. You can either paste this address into your RSS reader
https://www.self-esteem-enhances-life.com/Self-Esteem.xml
OR
on my Home Page please click on the RSS button, top left of the page, and follow the instructions.
---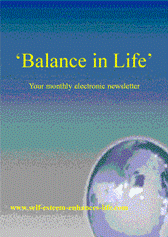 As you know this is free to your email box at the beginning of each month. If this is not your own copy then please follow this link to sign up for your very own copy
---
Each month there will be an article, with fresh content, that goes into a subject in a little more detail. Perhaps give a different stance. Perhaps provide food for thought. Perhaps . . .

This month a different theme.

Open to outside help?

Are you open to outside help?

Or do you shun it? Push it aside?

Have a hard job accepting it?

Feel it reflects badly on you if you do accept assistance?

Do not want to admit that you might need some support?

Do not like to feel that you cannot manage everything yourself?

Find it hard to come to terms with yourself afterwards?

Get embarrassed by the whole thing?

Do not like the experience as it makes you feel less worthy?

Are you open to outside help?

You find that you feel a little bit vulnerable and do not like the feeling.

You look back and wonder why you could not do all that on your own?

You dislike the feeling that you may need motivating or may need inspiring.

But WHY might you feel any of this?

Is it that you feel you would lose your self respect?

You feel that you might lose confidence and lose face?

Or

You may feel it is the lack of openness that is the problem.

The help is fine and received with gratitude but the showing the sense of need gives you the shudders.

Or the support is appreciated but you wonder why you cannot ask for it.

Or you have been helped before and not liked the experience. It felt belittling.

And what might change this?

Are you open to outside help?

To realize that help is help and that is all. And it is the thoughts and feelings of caring behind the support is what you find hard to accept.

To understand that others do like to help you and accepting gratefully on your part is all that is required by way of thanks. But you need to come to terms with that.

To appreciate that you cannot do everything yourself and need to be supported or assisted in some of the things that you do?

And then you will be able to find that all is well. You can be grateful and accept, and life wil go on.

And that you can achieve so much more (at times) by working with others rather than just on your own.

And. When you are more open to outside help . . .

And when you come to terms with the fact that others will freely assist you in your life - you will have made another step down the road to being a more rounded individual.

Go to it now (and reap the rewards).




Hope you enjoyed it and found it beneficial. Be inspired to become more in 2012. Make the most of every moment you have. Martin

What do you think? Let me know by sending me your feedback using this link. September 2012 Contents
---
Have you ever wanted your own business? But no previous experience . . . Have you every wanted your own website? But no previous experience . . .
And you thought you could NOT afford it - but now you can! At only $29.99 a month you can do it.

Look at your own life and what you can do - and your website is in their somewhere - just waiting to get out.
Give YOURSELF this chance today!
If you have the desire, the will to do your own thing then help is at hand.
Think you can, you can.
Think I don't know - then you could . . .
Find out about how YOU could do this for yourself with Site Build It!.
Or, to find out how I learned about this and started putting it into practice
Yes, you can do this.
You can build your own website.
You can realize your own dreams.
You can fulfill your dreams.
Any questions about SBI!?
---
If you'd like to contact me please use the following link: Contact Me page
---
A lifelong ambition has been realized! I am now an author and I would love to share my works with you.
And here they are - the ebooks for you to enjoy! Just click on the images to get more information . . .

Fitting Life's Pieces Together eBooks - Volumes 1, 2 and 3

Inspirational and motivational quotes and verses to assist you in meeting life's challenges, adapting to and embracing change, making better decisions, raising self esteem and understanding yourself and life better.

Please click on the ebook images to find out more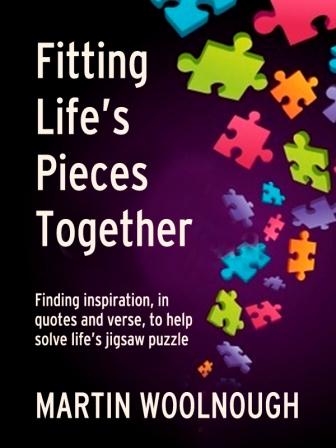 In the US use:
Feel free to view this ebook on Amazon right now!

In the UK use:
Feel free to view this ebook on Amazon right now!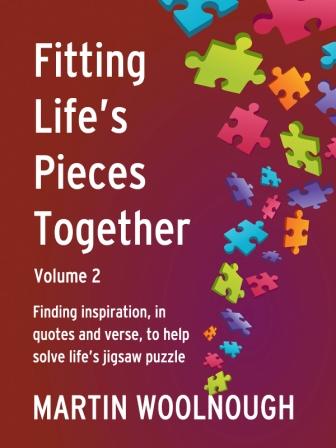 In the US use:
Feel free to view this ebook on Amazon right now!

In the UK use:
Feel free to view this ebook on Amazon right now!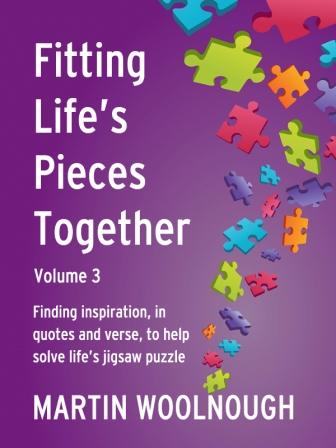 In the US use:
Feel free to view this ebook on Amazon right now!

In the UK use:
Feel free to view this ebook on Amazon right now!



Celebrating The Inner You eBooks - Volumes 1, 2 and 3

Find inspirational and motivational quotes and verses to assist you to celebrate the gift of life. Discover timeless wisdom and thought provoking contents that will challenge you to get more out of life. Understand yourself and life better.

Each ebook is about viewing life as a gift and time as being precious ...

Please click on the ebook images to find out more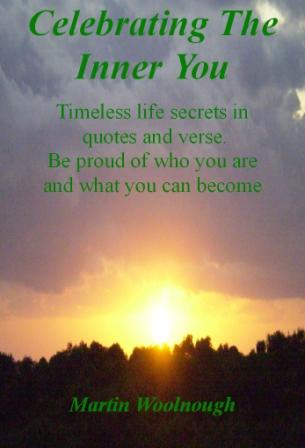 In the US use:
Feel free to view this ebook on Amazon right now!

In the UK use:
Feel free to view this ebook on Amazon right now!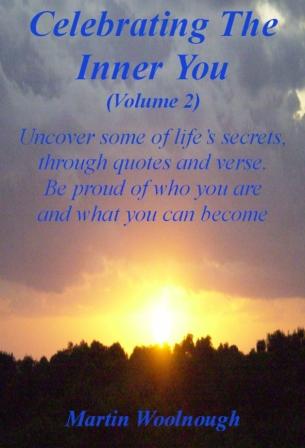 In the US use:
Feel free to view this ebook on Amazon right now!

In the UK use:
Feel free to view this ebook on Amazon right now!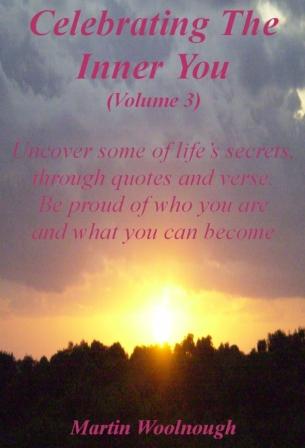 In the US use:
Feel free to view this ebook on Amazon right now!

In the UK use:
Feel free to view this ebook on Amazon right now!




My Amazon author page is:

My Author Page URL is live on Amazon.com. Please feel free to visit my Amazon author page there by using this link.

Please realize you do not need a Kindle reader to be able to access and read Kindle ebooks, they can be read on Mac, PC, iPhone and iPod touch, iPad and Android.
Learn more here!
Please let me know what you think ...
Your life might never be the same again!
---
---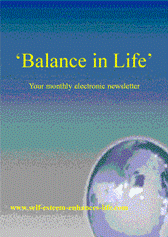 So, that is all for this month - doesn't time fly! Another year is racing away with us.

Again it has been a real pleasure spending time with you. I look forward to meeting up with you next month - October 2012.

The summer months revitalize us. We see new ways and chances to start afresh. Clean the slate. Get down to all those important things that you may have been putting off - and we tend to do that from time to time, don't we?

Why not start right now!

Many thanks to all of you who have been reading these ezines over the months. And for your good wishes, comments and suggestions.

In the meantime make the most of your life. Enjoy your days. And if you want to contact me about anything pertaining to self esteem and life then you know where to do so.

May I just wish you all every success and hope that you find enjoyment, satisfaction and fulfillment in your life in the coming days and years.

All best from England, Martin






Copyright© 2008-2012. Self-Esteem-Enhances-Life.com. All Rights Reserved.

---