A Warm Welcome To The 'Balance in Life' Electronic Newsletter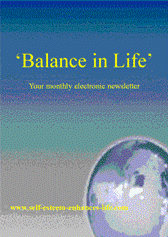 Hi, I'm Martin, and I'm very happy to be sharing a little more about life in this free monthly newsletter.
Life is very precious as we all know. And it is a noble aim to get the most out of it. Each month you will find new content here - not seen elsewhere first. Read and think and enjoy!
There will be a mixture of material to get our teeth into. To help move our lives along if we so wish. To think about life if that is what we want to do. Or to just ponder and wonder about life's rich tapestry, and what it has to offer us.
---
So what do we have in store this month in this edition of 'Balance in Life'?

So let us get started on this months edition . . .
---
Following on from the Lighter Note page on the website I thought I would provide just a few more quotes here each month.
Another chance to smile, to ponder, to think, to . . .
One fifth of the people are against everything all the time. Robert Kennedy
The only way of catching a train I have ever discovered is to miss the train before. G.K. Chesterton
A man who reviews the old so as to find out the new is qualified to teach others. Confucius
Freedom is nothing but the distance between the hunter and the hunted. Bei Dao
It's what we learn after we think we know it all that counts. 'Kin' Hubbard
All true knowledge contradicts common sense. Bishop Mandell Creighton
Too many people have decided to go without generosity in order to practise charity. Albert Camus
Nothing is so obnoxious as other people's luck. F. Scott Fitzgerald
All that non-fiction can do is answer questions. It's fiction's business to ask them. Richard Hughes
A friend is a person who has the same enemies you have. Stephen Leacock
If you always give, you will always have. Chinese proverb
A light heart lives long. William Shakespeare
---
Each month I will look through my notebooks and find a little bit of prose. Often written in a few minutes, so please don't expect Wordsworth, but hopefully these entries will provide a little interlude in your day. A chance to think and ponder, to daydream or to visualize, to perhaps see things in a different light.
That is my usual intro to this section, but this month's offering is a bit longer and becomes an article in itself, if in verse at the same time. I like verses like these - with some meaning, a bit of humor, an insight or piece of wisdom - wrapped up in a rhyme. Please see what you think and let me know if it is useful or not - highlights some valuable points but in a lighter vein . . .
This month, I thought, a slightly different slant. Nothing like a bit of experimentation. Let me know what you think.
Happy reading.
In life we should ever walk tall
and jump if we meet a brick wall
but we slip and then we cried
when we fell on our side
oh they say - pride goes before a fall

--------------------------------------------
Control is something you'd rather not waste
in life steady does it often beats haste
to lose control may make us upset
with self acceptance we can have no regret
that discipline is not to everybody's taste

--------------------------------------------
Self esteem sometimes seems so clear
respecting yourself is something not rare
your image not a thing of the past
you must make sure your esteem does last
just don't be too hard on yourself - that is clear

--------------------------------------------
We all want life to be fun
satisfaction, contentment, joy as one
keep life's experiences to hand
and then make a real stand
make the most of life before it is gone

---
You may have noticed some new red links appearing on some of the web pages.Clicking through these links will offer you opportunities to have a say (AND a page on the website). These subjects will be expanding in the coming months.
This is your chance to have a real say and contribute your thoughts, your feelings for the benefit of all visitors. Get your thinking caps on and help another visitor along the way.
The following gives the first of the 'red links' I have created for you. Enjoy playing YOUR part in assisting others in this way
YOUR favorite self development book
Feel free to offer your own thoughts and ideas - please just keep them focused on the subject of the page (there will be several more on different areas of topical interest in due course). Or see what others have shared and add comments to their input.
I will keep you up to date with this exciting initiative as the months go by.
Have your say and your presence on the Internet - YOUR very own web page. This is your chance.
---
Sister websites
I will continue to add focused content and expand the www.self-esteem-enhances-life.com website but I will also be building my other websites, too.
My second website is www.successful-decision-making.com This is all about making decisions and to help you in making the right decisions for you.
There has been a number of developments - please see the following example webpages:
responsibility page**** character page**** progress page**** priorities page**** beginning page**** determination page**** establish page**** sincerity page
---
My third website is www.guide-to-managing-change.com which helps us all to handle change better and look at the consequences of change and the challenges involved.
There has been a number of developments - please see the following example webpages:
adversity page**** adapt page**** agreement page**** discovery page**** deception page**** excellence page**** impulsiveness page**** magic page
---
My aim with these three websites is provide a one-stop information and inspiration center to help support and assist us all through life. And help us all get the most out of our lives.
Be a part of this exciting adventure - here and now!
---
What do you think? Let me know by sending me your feedback using this link.
---
Recent developments on www.self-esteem-enhances-life.com
If you look on the SiteMap page you will see a number of recent page additions.
It has been another productive month.
So now there are further pages in the different sections of the website. If I may just point out the following examples:
Prose has been a big thing this month in my writing. Have a taster by looking in on any of the following pages:
Empowerment**** Assessment**** Space**** Nature**** Talents**** Values**** Worth
They have kept my creative juices flowing in a number of different directions. These are a LITTLE DIFFERENT being in verse form.
Please have a look and let me know if this is the sort of material you find interesting and useful.
My next pages will be providing further content for various other sections of the website.
If you'd like to provide any feedback or comments please use my Contact Me page.
RSS feed
To get the latest website developments to your screen please subscribe to my RSS feed. You can either paste this address into your RSS reader
https://www.self-esteem-enhances-life.com/Self-Esteem.xml
OR
on my Home Page please click on the RSS button, top left of the page, and follow the instructions.
---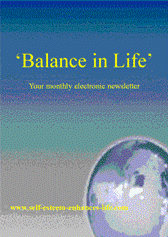 As you know this is free to your email box at the beginning of each month. If this is not your own copy then please follow this link to sign up for your very own copy
---
Each month there will be an article, with fresh content, that goes into a subject in a little more detail. Perhaps give a different stance. Perhaps provide food for thought. Perhaps . . .
This month more of a thought provoking theme.
Planning Ahead
In life we have to plan ahead. Especially as we get older we realize that we won't be around forever, and need to make the most of our time. What can we do to improve our quality of life? And also to remain productive, contributing and giving - and not just existing.

You may not think it necessary to plan for a rainy day, but particularly in these difficult economic times it would be prudent to do so. But additionally, is it not sensible to cast a weather-eye (or is it whether-I) over one's life and see what needs to be done? We service our car regularly, and check the oil and tyres - when we remember. So why not us and our life and the things we are doing?

Perhaps we need to reflect on what is happening. Reflect on what is happening in our life. Give a little time to ourselves (perhaps) for a change. Ask ourselves some questions.
Are we doing the things we want to do?
Are we achieving the things we should be achieving, and in the important areas of life, too?
Are we happy with our life?
Is our life going in the direction we would like it too?
Are we comfortable with ourselves?
Do we look forward to the future with confidence and motivation?
Are we looking after our own personal growth and development?
Do we respect ourselves?
Is our self esteem good and strong?
And

Seek the guidance of a good and trusted friend and confidant. Ask them to help you. This takes courage on your part and friendship on theirs, but can be of help and assistance - and perhaps you can help your friend also.

Create a list of things you'd like to do. You'd like to accomplish. Small as well as the big things. Things you'd like to do on your own. Things you'd like to do with your partner and/or family. Be innovative and adventurous. Do something new. Try something you have always longed to do - you only need do it the once, though you may want to go back for more!

Create boundaries. A boundary for you. A boundary for others. Not to keep people out or you constrained and in. But rather a boundary of what you feel is good and right. A value system and principles you wish to live by. A line you will not cross. But this also gives you the strength and direction when other things happening in life may not appear so clear.

Commit things to paper. That seems to give them more substance, and makes them more real, more definite. Not just a wish but more a reality that can come true. From this you can develop a blueprint. This can be as loose or as tight a plan of action as you like. But try to give the actions some detail. Try to give them some substance.

The last element we will look at here is visualizing your new(er) life. See yourself doing the things you really want to do. We all have responsibilities and essentials, but create another tier of things you want to do. Then see yourself doing them. Reading that book. Visiting that castle. Driving that vehicle. Flying in that glider. Whatever you want to do. Try to taste that. Get close to that.

Then start to live your plan. Start to do the things on your list. Sure, keep the rest of your life together, but slowly and surely start acting out your plan. And enjoy yourself.

Then, when you have nearly completed your plan, repeat the process. You will now repeat it with greater confidence - you have done it before. With greater motivation - you have achieved some of the things you've always wanted to do.

PS for me - one on my list was to write, and to write to try to help other people with their lives and getting the most out of life.

Just remember that you can live out your dream, too. Go for it!

Is their a conclusion? I'll leave you with a few quotes that help to put things into perspective . . .
There must be a beginning of any great matter, but the continuing unto the end until it be thoroughly finished yields the true glory. Francis Drake
The past was never just the past, it was what made the present able to live with itself. Busby Berkeley
The right to possess boasts foolishly of its right to enjoy. Rabindranath Tagore
What we love and what we hate most in other people, is always and only ourselves. Comtesse Diane
You beg as you question, you give as you answer. Johann Kaspar Lavater
He who fears dangers does not perish by them. Leonardo da Vinci
Action is consolatory. It is the enemy of thought and the friend of flattering illusions. Joseph Conrad
The buck stops here. Harry S. Truman
Find out more about goal setting here
That's the end of the main article
Hope you enjoyed it and found it beneficial. Martin
What do you think? Let me know by sending me your feedback using this link.
---
Have you ever wanted your own business? But no previous experience . . . Have you every wanted your own website? But no previous experience . . .
If you have the desire, the will to do your own thing then help is at hand.
Think you can, you can.
Think I don't know - then you could . . .
Find out about how YOU could do this for yourself with Site Build It!.
Or, to find out how I learned about this and started putting it into practice
Yes, you can do this.
You can build your own website.
You can realize your own dreams.
You can fulfill your dreams.
Any questions about SBI!?
---
If you'd like to contact me please use the following link: Contact Me page
---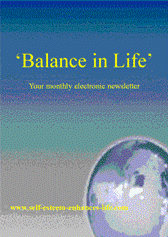 So, that is all for this month - doesn't time fly! Again it has been a pleasure spending time with you. I look forward to meeting up with you next month, at the beginning of the June 2009.

In the meantime make the most of your life. Enjoy your days. And if you want to contact me about anything pertaining to self esteem and life then you know where to contact me.

May I just wish you all every success and hope that you find enjoyment, satisfaction and fulfillment in your life in the coming years.

All best from England, Martin






Copyright© 2008-2009. Self-Esteem-Enhances-Life.com. All Rights Reserved.

---