A Warm Welcome To The 'Balance in Life' Electronic Newsletter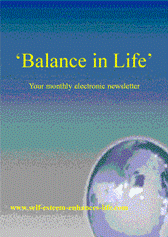 Hi, I'm Martin, and I'm very happy to be sharing a little more about life in this free monthly newsletter.
Life is very precious as we all know. And it is a noble aim to get the most out of it. Each month you will find new content here - not seen elsewhere first.
There will be a mixture of material to get our teeth into. To help move our lives along if we so wish. To think about life if that is what we want to do. Or to just ponder and wonder about life's rich tapestry, and what it has to offer us.
---
So what do we have in store this month in this edition of 'Balance in Life'?

So let us get started on this months edition . . .
---
Following on from the Lighter Note page on the website I thought I would provide just a few more quotes here each month.
Another chance to smile, to ponder, to think, to . . .
There are two kinds of light - the glow that illumines, and the glare that obscuress. James Thurber
'Obvious' is the most dangerous word in mathematics. Eric Temple Bell
Blessed is the man who, having nothing to say, abstains from giving evidence of the fact. George Eliot
A critic is a man who knows the way but can't drive the car. Kenneth Tynan
Know thyself. Anonymous
Grasp the subject, the words will follow. Cato the Elder
Men travel faster now, but I don't know if they go to better things. Willa Cather
No one can tell me, Nobody knows, Where the wind comes from, Where the wind goes. A. A. Milne
For what a man would like to be true, that he more readily believes. Francis Bacon
---
Each month I will look through my notebooks and find a little bit of prose. Often written in a few minutes, so please don't expect Wordsworth, but hopefully these entries will provide a little interlude in your day. A chance to think and ponder, to daydream or to visualize, to perhaps see things in a different light.
That is my usual intro to this section, but this month's offering is a bit longer and becomes an article in itself, if in verse at the same time. I like verses like these - with some meaning, a bit of humor, an insight or piece of wisdom - wrapped up in a rhyme. Please see what you think and let me know if it is useful or not - highlights some valuable points but in a lighter vein . . .
Happy reading
Self esteem and life in verse . . .
We admire those who can write but to us it may be a pipedream,
they make it look so easy but for us it can make us scream
the very thought of putting words together is but a nice daydream
encouragement, support, assistance, we need them all to boost our self esteem.

When life comes together things can work out real well
but at times a wobbly happens or a real big bombshell
goes off in our life and we are left feeling less than noble
and we do not wish to say to our self esteem - this is a fond farewell

For how we view ourselves is of course fundamentally important
but at times life and circumstance to us makes a real affront
upon our self image and perception and makes our life seem a penance
our awareness and self respect too needs to be brought back into balance

Lest we lose our way and find ourselves upon life's far off shores,
away from friend and welcome sight and clearly in the wars
needing life's sustenance and succor and needing a real boost
so that we feel whole and altogether and not in any way reduced

And feeling sorry for ourselves or lost within our life's true journey
being a shadow of our former selves and losing contact with life's real mercies
and forgetting perhaps the many times now past when we have been uplifted
by life's rich graces and magic - and us the recipient of much and blessed

When life comes along at any unexpected moment
and showers all upon us and we become truly buoyant
carefree, content, satisfied, happy again with the lot we have
comfortable in our own skin and provided with life's soothing salve

This helps to soothe and comfort us and provides much that we need
and we again can give thanks for all this support and can concede
that though alone we have been and in ways affected and concerned
life again has taught us much and given us another lesson to be learned

That we are never really truly alone, nor on our own
for we have experienced this grace and should have known
that life will not let us suffer and not be there with a helping hand
to give us strength and sustenance and make too much a demand

Upon our resources without the necessary support
that eases our lot and helps us along like a friend and escort
and boost our life and at times it does seem to redeem
our life, our loves, ourselves, our experience and at the heart our self esteem

Can be there once again for all to feel and see us whole again
but more important is the fact that we can see and feel it now and not when
we did expect some circumstance or situation to boost again our life
giving us a helping hand, much needed support and take away the strife

And reveal again our confidence that appeared lost or was it just merely hidden
along with our motivation to live, to be productive and take real action
to make the most of this time on Earth and with it our self respect
boosted and enhanced our self esteem, and life again unchecked

So we can live the life we wish if we put in the real effort,
work and toil, rest assured that life gives us its strength and comfort
to help us to look to the future with confidence and an eager eye
enjoying the present and our blessings and help us to deny

Those thoughts not positive and bring our life to its true place
each day of contentment and satisfaction and full of life's rich grace
that we may be full of esteem and happy with our image
and know who we really are and that life is a real privilege

And a responsibility and we should be happy with our contribution
each and every day we both give and take but it is to help deepen
our experience of life and helps us to learn to remain open
to the rich tapestry of life and will in no way dampen

Our efforts and allow us to live by our value system
which backs us up, gives us direction and allows us to blossom
into who we really are and realize the prize we have in our grasp
to really find out our lot and not lose all with a gasp

Of uncertainty and indecision in the heat of the moment
forgetting our good fortune, talents, gifts and how resilient
we are in life with our confidence and motivation intact
our self esteem to the fore, happy, content, satisfied - howzat?

Why not visit Self Esteem to read more information on self esteem and its place in our lives.
---
You may have noticed some new red links appearing on some of the web pages.Clicking through these links will offer you opportunities to have a say (AND a page on the website). These subjects will be expanding in the coming months.
This is your chance to have a real say and contribute your thoughts, your feelings for the benefit of all visitors. Get your thinking caps on and help another visitor along the way.
The following gives the first of the 'red links' I have created for you. Enjoy playing YOUR part in assisting others in this way
YOUR favorite self development book
Feel free to offer your own thoughts and ideas - please just keep them focused on the subject of the page (there will be several more on different areas of topical interest in due course). Or see what others have shared and add comments to their input.
I will keep you up to date with this exciting initiative as the months go by.
Have your say and your presence on the Internet - YOUR very own web page. This is your chance.
---
Sister websites
I will continue to add focused content and expand the www.self-esteem-enhances-life.com website but I will also be building my other websites, too.
My second website is www.successful-decision-making.com This is all about making decisions and to help you in making the right decisions for you.
There has been a number of developments - please see the following example webpages:
decision making quotes page**** consequences quotes page**** inspiration page**** inspiration quotes page**** self development page**** self development quotes page**** indecision quotes page
---
My third website is www.guide-to-managing-change.com which helps us all to handle change better and look at the consequences of change and the challenges involved.
There has been a number of developments - please see the following example webpages:
managing change quotes page**** managing change in verse page**** ambition page**** freedom page**** attitude quotes page**** optimism quotes page**** solutions quotes page
---
My aim with these three websites is provide a one-stop information and inspiration center to help support and assist us all through life. And help us all get the most out of our lives.
Be a part of this exciting adventure - here and now!
---
What do you think? Let me know by sending me your feedback using this link.
---
Recent developments on www.self-esteem-enhances-life.com
If you look on the SiteMap page you will see a number of recent page additions.
It has been another productive month.
So now there are further pages in the different sections of the website. If I may just point out the following examples:
Prose has been a big thing this month in my writing. Have a taster by looking in on any of the following pages:
Confidence**** Motivation**** Self image**** Discipline**** Control**** Development**** Growth**** Respect**** Awareness**** Acceptance**** Appreciation**** Stress****
They have kept my creative juices flowing in a number of different directions. These are a LITTLE DIFFERENT being in verse form.
Please have a look and let me know if this is the sort of material you find interesting and useful.
My next pages will be providing further content for various other sections of the website.
If you'd like to provide any feedback or comments please use my Contact Me page.
RSS feed
To get the latest website developments to your screen please subscribe to my RSS feed. You can either paste this address into your RSS reader
https://www.self-esteem-enhances-life.com/Self-Esteem.xml
OR
on my Home Page please click on the RSS button, top left of the page, and follow the instructions.
---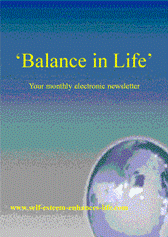 As you know this is free to your email box at the beginning of each month. If this is not your own copy then please follow this link to sign up for your very own copy
---
Each month there will be an article, with fresh content, that goes into a subject in a little more detail. Perhaps give a different stance. Perhaps provide food for thought. Perhaps . . .
This month more of a thought provoking theme.
Practising Life . . .
We practise most things, don't we? We play a sport and we put our time in - both for exercise and expertise. We have a skill and we keep on top of that - we try and try again to improve and perfect to make our skill a real strength. At work and at play we practise to perfect our skills and talents.
We realize that without effort not much is achieved. In fact without forward motion, growth and development, where are we? If we don't learn and grow what will we become? Will we stagnate and more? If a car does not steady itself and move forward it can start to roll backwards - and can the same thing happen to us?
So what can we do? What should we be doing?
How do we practise our life?
Do we practise life? Can we even? Is life that sort of thing? What pointers could we give ourselves to make our life right - for us? The following are just a few examples that spring to mind.
give your life your best shot
be positive
be open
be flexible
try your hardest whenever you can
go the extra mile
don't be afraid to seek advice and assistance as required
be humble
be respectful
accept things and move on
be willing to accept yourself - warts and all
Ring a bell? Make your own list - then compare it in a few weeks time and see if anything has changed . . .
And why practise?
Why would we wish to put in this effort - and not sit back and just watch TV? We need to view the effort from the angle of the benefits that we can accrue and not the hard work put in.
How can we benefit from putting effort into life? What can we achieve if we put our minds to it and put some time and effort in?
to become more familar with your life
to make a more meaningful contribution to life
it is less embarassing that way
to win
to belong
to be part of life's team
to be part of the bigger picture
Is their a conclusion? I'll leave you with a few quotes that help to put things into perspective . . .
What would you attempt to do if you knew you could not fail? Robert Schuller
Courage is very important. Like a muscle, it is strengthened by use. Ruth Gordon
To serve is beautiful, but only if it is done with joy and a whole heart and a free mind. Pearl S. Buck
There is no wealth but life. John Ruskin
Neither do men light a candle, and put it under a bushell. Bible, NT Matthew 5:15
It is not peace we seek but meaning. Lawrence Durrell
Hitch your wagon to a star. Ralph Waldo Emerson
That's the end of the main article
Hope you enjoyed it and found it beneficial. Martin
What do you think? Let me know by sending me your feedback using this link.
---
Have you ever wanted your own business? But no previous experience . . . Have you every wanted your own website? But no previous experience . . .
If you have the desire, the will to do your own thing then help is at hand.
Think you can, you can.
Think I don't know - then you could . . .
Find out about how YOU could do this for yourself with Site Build It!.
Or, to find out how I learned about this and started putting it into practice
Yes, you can do this.
You can build your own website.
You can realize your own dreams.
You can fulfill your dreams.
Any questions about SBI!?
---
If you'd like to contact me please use the following link: Contact Me page
---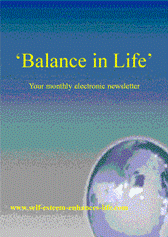 So, that is all for this month - doesn't time fly! Again it has been a pleasure spending time with you. I look forward to meeting up with you next month, at the beginning of the May 2009.

May I just wish you all every success and hope that you find enjoyment, satisfaction and fulfillment in your life in the coming years.

All best from England, Martin






Copyright© 2008-2009. Self-Esteem-Enhances-Life.com. All Rights Reserved.

---