Related Links For Your Benefit
Related links
I hope that you find the following links useful. Please note the 'related links' will open in a new browser window.
---
SelfGrowth.com is the most complete guide to information about Self -Improvement, Personal Growth and Self Help on the Internet. It is designed to be an organized directory, with articles and references to thousands of other Web Sites on the World Wide Web.
Personal Growth from SelfGrowth.com-- SelfGrowth.com is the most complete guide to information about Personal Growth on the Internet.
---
Martin's expert page on Selfgrowth.com can be accessed (in a new window) via this link.
---
Holistic Health Articles - Free Article Submission For Authors, Free Content for Publishers!
---
Click on the following link to 2SearchSmart - the search-friendly web directory.
2SearchSmart Human Edited Web Directory
---
The following are
free directory listings
(all open in a new window)
General Web Directory
Free linking to quality sites
Leadership Training from mindtools.com - Learn 48 essential leadership skills at mindtools.com.

Forever Self Improvement
Improve yourself every day!
---
---
Go Ezines - Ezine Directory - Find ezines, ezine trades, ezine advertising, articles, tips and advice about ezines at the Ezine Directory.
---
Please note the links on the rest of this page open in the same window (for your convenience).

To find out more about my free monthly newsletter called 'Balance in Life' please click on the 'Balance in Life' newsletter page link.
'Balance in Life' is emailed direct to the Inbox of those who subscribe and includes exclusive new material in each issue.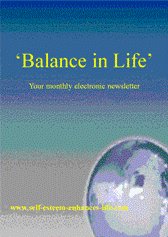 I hope I'll be able to send you a copy soon.


It's QUICK and EASY, sign up Here - you have nothing to lose!
---
Return to top of Related Links page
Back from Related Links to Self Esteem Enhances Life Home Page
Custom Search