With Your Self Development - Utilize Talents, Realize Potential, Achieve Dreams
Self development or self help are such popular subjects. So much material, advice, assistance is available. And one can see why. Personal development is so important in life. To achieve our dreams and goals we need to be on our game, firing on all cylinders. Ongoing improvement is vital to getting the most out of life.
Self improvement and development - is that what life is really all about? Getting the best out of yourself? Finding development and growth in the things that you do, see and influence in life. Making the most of your time. In thought, word and deed, living the life that you want - that may be our wish. But it can be so much more than a wish. It can become a reality if we put our heart into it. Learn and grow, discover and develop. And become the best that we can be - for if there is a competition in life then it is with ourselves (and with no one else, though it very much appears to be that way).
Looking after self is personal. Development and improvements are for the self that we call ourselves. After all in life we are the most important ingredient and to make the most of our talents and skills, energy and enthusiasm is to truly honor the life that we have in our hands. A good motto can be 'to make the very most of today'.
So what can self-development mean to you?
What can you gain from self development?
Realize that YOU can do anything you set your mind too
Realizing life is on our side and getting the most out of things
Letting 'life' teach us something each and every day
Allowing ourselves the opportunity to improve and excel
Developing weaknesses, nurturing strengths
Treating hurdles and barriers as challenges
Recognizing that we can improve and develop
Putting in the effort in order to develop ourselves
Giving ourselves the time necessary to develop
Seeing the opportunities and possibilities in life for what they are
Putting some time and effort into our lives to make them better
Improving our own lives and helping others to do the same
Realizing that growth and development can be fun
And what can be the benefits you experience?
What can self development and growth do for YOU?
All put together, enhancing your
self esteem
and experience of life
What questions might you have?
What can you find here? What's in it for you?
We will be looking at how personal development can have such an impact on our lives. We will provide some answers and some background to the questions raised in the last section. Self development, utilizing your talents, realizing your potential, boosts your
self esteem
and enables you to get the most out of life. Personal and self improvement should be factors in the improvement of all of our lives. And there is no better time to start than right away!
---
---
Demand first what one can do; afterwards, what one ought. Friedrich Nietzsche

Feel free to check out the following pages in your quest in understanding self development and the part it has to play in your life.
Much of life appears to be latent
and much is over in an instant
some things appear quite distinct
is is sad when some things are just plain absent

---
To find out more about
my free monthly newsletter called 'Balance in Life'
please click on the
'Balance in Life' newsletter page
link.
'Balance in Life' is emailed direct to the Inbox of those who subscribe and includes
exclusive new material
in each issue.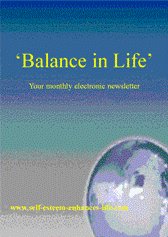 I hope I'll be able to send you a copy soon.
It's QUICK and EASY, sign up Here - you have nothing to lose!
This site is for information purposes only. It is not intended to diagnose or treat any medical condition.
Please use the information responsibly. If in any doubt consult a qualified medical professional.
Copyright© 2008-19. Self-Esteem-Enhances-Life.com. All Rights Reserved.