The personality you show is you. Let the real YOU out to play.
Your personality impacts your thought, behavior and motivations in and around life. We need to work on aspects of our life to show our true selves off to the world. We should primarily do this for our own sake, though it does affect the people around us, many of whom we love and respect.
Our habits are important to the way we live and use our time. Our traits make us the person we are. Our skills help us to make a living and to enjoy our spare and personal time. Making the most productive use of our time should be a goal that all of us make on a daily basis. Wasting time is fine every now and again but on a regular basis will only put us on a downward spiral (from which it may be difficult to extract ourselves).
How we perceive ourselves governs what we think or do a lot of the time. Personal issues may predominate but taking control of these aspects of your life will bring huge benefits in how you feel about yourself, your self esteem, and your experience and enjoyment of life.
So, what do we mean by all of this?
Let us not be a mask that hides our true identity
Let us be proud of who we are, what we do, what we show the world
Let us be in charge of our own motivations
Let us learn from others but have the strength to be our own person
Let us control our own behaviour
Let us realize we are unique human beings
Let us use our own initiative rather than respond to commands of others (winds of life)
Let us be enthusiastic about our present, and optimistic about our future
Let us set our goals and achieve our dreams
Let your task be - show the world the real you.
So, what will we be looking at?
Seeing how it all links with self esteem
Looking at traits
Considering habits
Examine time and its management
Reviewing our skills
What questions might you have?
What can you find here? What's in it for you?
We will be looking at how our persona can impact on our lives. We will provide some answers and some background to the questions raised in the last section. What you show to the world is so important. Just be yourself. Be real and your
self esteem
will soar and life can be a true adventure for you.
Different people bring out different aspects of ones personality. Trevor Dunn

Feel free to check out the following pages in your quest in understanding personality and the part it has to play in your life.
The self is not something ready-made, but something in continuous formation through choice of action. John Dewey

---
To find out more about
my free monthly newsletter called 'Balance in Life'
please click on the
'Balance in Life' newsletter page
link.
'Balance in Life' is emailed direct to the Inbox of those who subscribe and includes
exclusive new material
in each issue.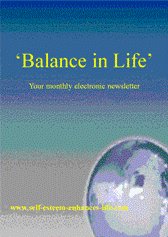 I hope I'll be able to send you a copy soon.
It's QUICK and EASY, sign up Here - you have nothing to lose!
This site is for information purposes only. It is not intended to diagnose or treat any medical condition.
Please use the information responsibly. If in any doubt consult a qualified medical professional.
Copyright© 2008-19. Self-Esteem-Enhances-Life.com. All Rights Reserved.