Enhanced Self Motivation Helps You Discover How You Can Change Your Life
With improved self motivation what can you not achieve? Getting motivated gives you the energy, realization and momentum for self improvement. Increased self perception gives you greater understanding and knowledge of this life that you lead. You can tackle each day with confidence and have the self respect to meet life head on.
Give yourself a
self assessment
check and move your life on. Feel better about your life. With empowerment you can feel comfortable with your self image. Feel how your
self esteem
and your life is enhanced by your new found energy and enthusiasm. Your motivation will help you complete tasks as well as to initiate new, interesting and exciting ventures. Feel empowered, excited and inspired enough to chase your dreams.
Empowerment of self energizes your life. This perception is key. It will enable you to see life with new eyes. To be able to open new doors. To see life in new ways. To leave the past behind and move forward and become more in the future. To become the person you have always wanted to be.
So what will improved self motivation mean for you?
Start right away on claiming the future that is waiting just around the corner for you.
A greater determination to get things done
Create a better future for yourself
Build on and augment previous successes
Realize possibilities, new and old
Learn to dream again - with the thought of achievement
Start setting yourself goals and achieving them
Get excited by the road ahead
Take ownership of your own life
Build on small successes to really achieve
Leave behind those things holding you back
Make that first step into your bright future
Where does self assessment fit in?
Look at yourself in a new light
Learn more about yourself
Look at your interests
Look at your personality and values
Find out more about what you like or dislike
Find out more about your strengths and weaknesses
Work on improving your life with your renewed motivation
What really is self assessment?
What questions might you have about self motivation?
What can you find here? What's in it for you?
We will be looking at motivation and its role in life. We will look at the points raised by the questions in the last section. Our aim to provide some answers and some background to these important issues. We will be looking at ourselves and using the
knowledge
gained. We will find ways to improve motivation in our daily lives. We will see how developed and enhanced self-motivation will boost our
self esteem
and really make a difference in your life.
So much is a man worth as he esteems himself. Babelais

Feel free to check out the following pages in your quest in understanding self management and the part it has to play in your life.
Oh to be motivated is such a gift
it enables us to progress and not to drift
away from our goals, our dreams - our aim
without motivation life would feel quite tame

---
To find out more about
my free monthly newsletter called 'Balance in Life'
please click on the
'Balance in Life' newsletter page
link.
'Balance in Life' is emailed direct to the Inbox of those who subscribe and includes
exclusive new material
in each issue.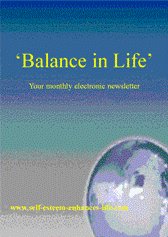 I hope I'll be able to send you a copy soon.
It's QUICK and EASY, sign up Here - you have nothing to lose!
---
Want to get motivated? Do you need to be energised to go to work? You'll be in for a real treat, get motivated, and read some really great short stories by visiting www.inspirational-short-stories.com. (Don't forget to give the rest of the site a good look, too . . . )
---
This site is for information purposes only. It is not intended to diagnose or treat any medical condition.
Please use the information responsibly. If in any doubt consult a qualified medical professional.
Copyright© 2008-19. Self-Esteem-Enhances-Life.com. All Rights Reserved.