Utilize Body Language To Improve How You Communicate - 'Read' The People You Interact With
Body language - who practices that art you may say. Actually we all do, often without realizing it. We get impressions about people we interact with, which can lead us to handle situations differently. That sums up the language of the body.
Communication is not just verbal, though that is most common. Being good at verbal communication, overcoming communication barriers, getting your point across, is something we can all improve. In fact day to day life gives us the practice. Whatever we do, whoever we are we communicate each and every day.
And we can mislead. The language of the body, when read correctly, can show when we are lying and when we are our body is in synch with what we are saying. Don't think that the other person cannot read you, though some people are a lot more expert at this than others. It is true that we all have a feeling when someone is being less than honest with us, if we have the 'eyes' to see.
So what is communicating with body language?
In simple terms it means:
Observing people, day to day, and look for the clues
Seeing how they communicate with movement or positioning of their body
Not just hearing what they say but 'seeing' how they say it
Noticing that what may be said may be contradicted by their body and their gestures
Remember that we can all try to fool other people from time to time - but do we succeed?
All in all - communicate with your whole self
AND don't forget yourself and what you are projecting, the clues you are giving out for others to see . . .
What questions might you have about good communication and the barriers met?
I don't really understand this language of the body thing, we just talk don't we?
I don't know if I can really be motivated to get involved with this?
What cues or clues are there to see?
With this help me make a good impression with people I meet?
How will a poor self image affect things?
It's all about the eyes, isn't it?
Where does how I behave fit in with all of this?
Can I use body language in the workplace?
Do you have any body-language quotes?
How can I tell if someone is lying to me?
Will I be showing off my personality too much?
Can I use these techniques every day?
Where does my self confidence fit in?
Will you tell me more about communication?
What are the different types of communication?
So you have any quotes about communications?
So there are other forms of communication than verbal?
How can I surmount barriers to effective communication?
Does having a healthy self esteem help with communication?
Could all this help me overcome my fears of public speaking?
What can you find here? What's in it for you?
We will be looking at body language and its role and uses in life. We will look at the points raised by the questions in the last section. We will provide some answers and some background to these important issues. We will see that we can improve our use of communication and hence interact better with other people. And look at how having a healthy
self esteem
allows us to project positively when we communicate with others.
I speak two languages, Body and English. Mae West

Feel free to check out the following pages in your quest in understanding body language and the part it has to play in your life.
Deafness has left me acutely aware of both the duplicity that language is capable of and the many expressions the body cannot hide.Terry Galloway

---
To find out more about
my free monthly newsletter called 'Balance in Life'
please click on the
'Balance in Life' newsletter page
link.
'Balance in Life' is emailed direct to the Inbox of those who subscribe and includes
exclusive new material
in each issue.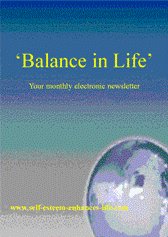 I hope I'll be able to send you a copy soon.
It's QUICK and EASY, sign up Here - you have nothing to lose!
This site is for information purposes only. It is not intended to diagnose or treat any medical condition.
Please use the information responsibly. If in any doubt consult a qualified medical professional.
Copyright© 2008-19. Self-Esteem-Enhances-Life.com. All Rights Reserved.